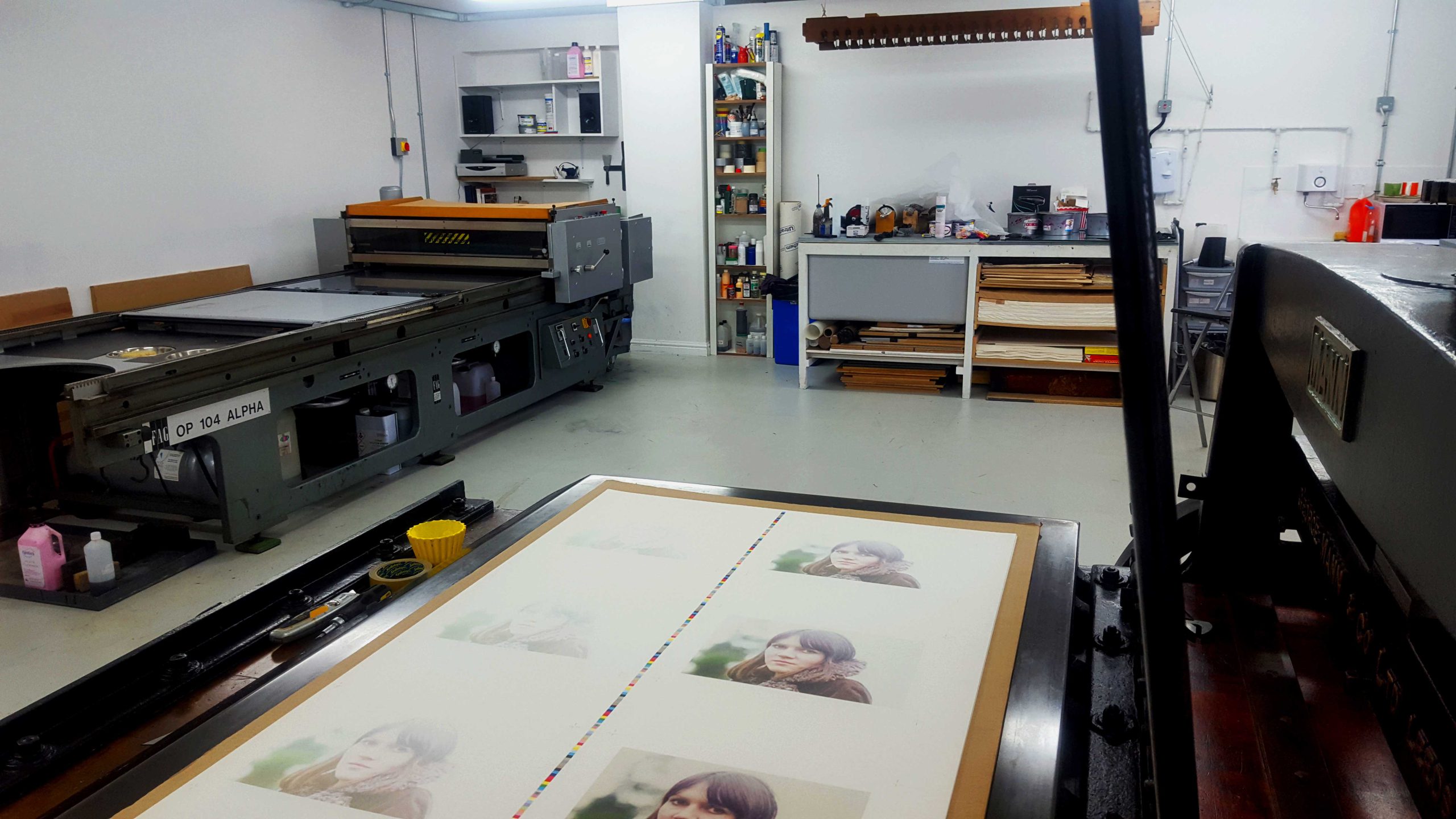 About Us
Nutmeg Editions is a printing and publishing studio specialising in lithography, intaglio and relief printing. It was set up by Sanju Mathew.
Nutmeg Editions welcomes and encourages innovative and experimental approaches to printmaking. We can guide and facilitate both experienced and relatively inexperienced printmakers; prior understanding of specific techniques is not a necessity. Nutmeg deals with all the practicalities of the printmaking process from start to finish. The technical support artists receive allows them the freedom and the confidence to develop ambitious ideas should they wish to.
We enjoy working with people who reciprocate our enthusiasm and open-minded approach to projects, this keeps the making process dynamic and engaging for everyone involved.
The Presses
The main two workhorses in the studio, aside from Sanju himself, are a 'George Mann' direct lithographic press (previously owned by master printer Alan Cox of Sky Editions) and an FAG OP104 Alpha flatbed offset proofing press.
For all intaglio and relief printing we use a both Rochat and Polymetaal Press.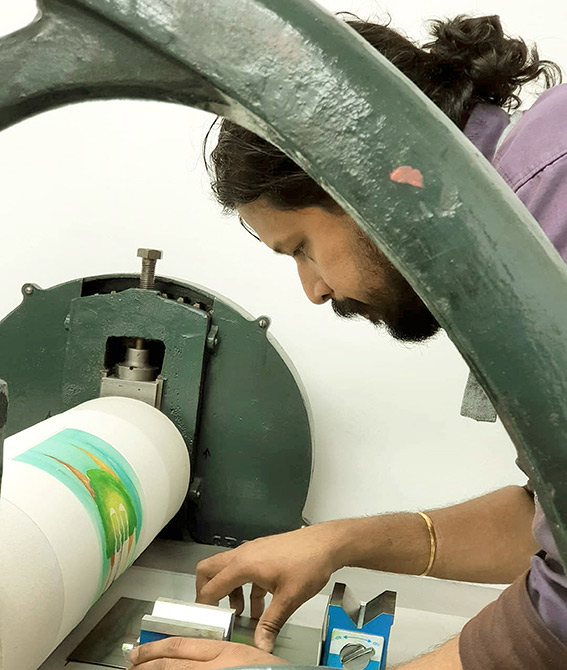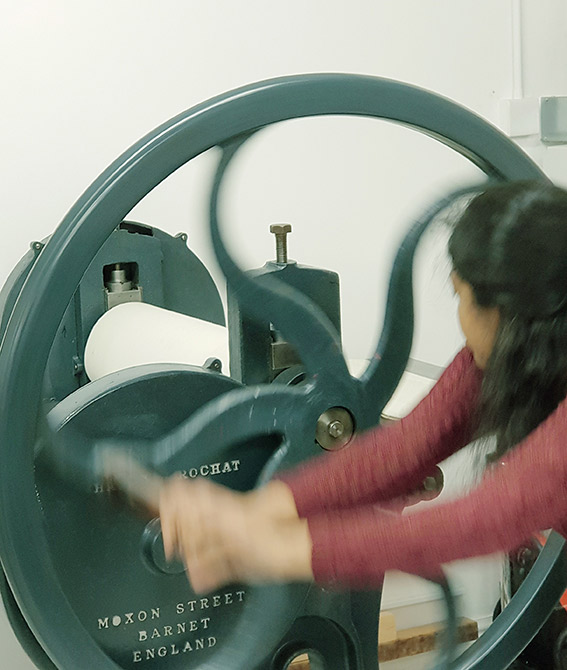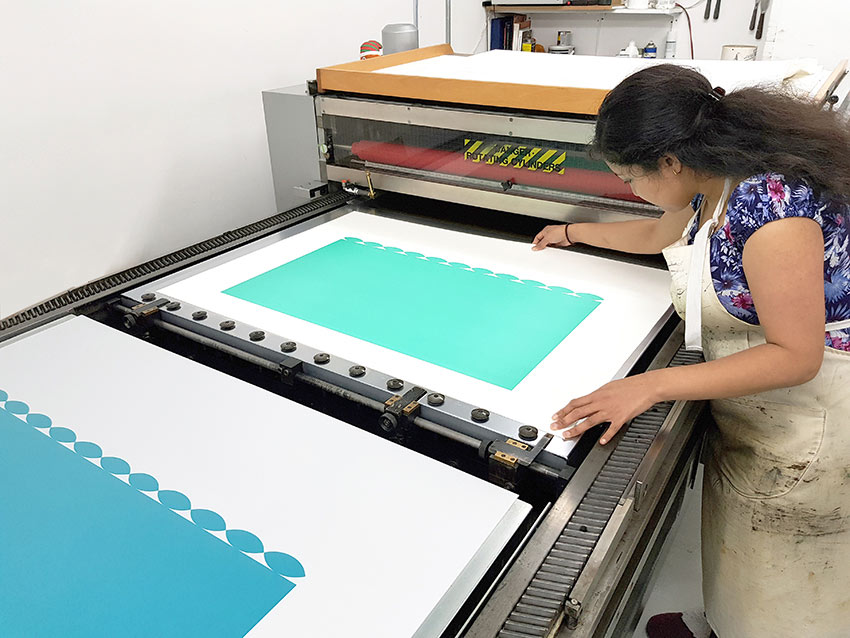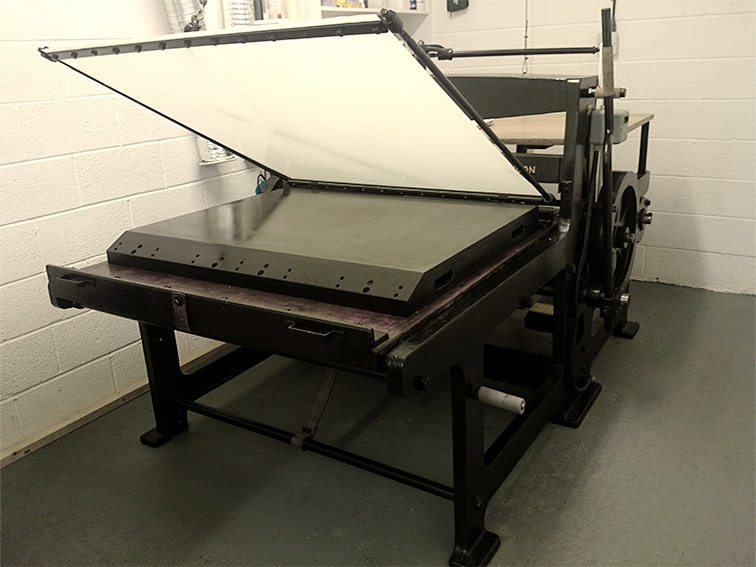 Techniques
A brief description of lithography: Lithography is a planographic method of printing based on the principle that oil and water don't mix. The printing matrix is either limestone, ball-grain aluminium plate or photo litho plate. Drawings, tonal washes, materials, patterns, photographic and other digitally created images and much more can be transferred onto photosensitive litho plates. Grained aluminium plates or limestone can be worked on in a direct and unmediated way. All these elements can be freely combined, rendering the lithographic process one of the most versatile in printmaking. An unlimited number of plates can be printed in succession, each colour requiring a separate plate. This results in complex imagery with subtle, nuanced and luminous colours and a painterly quality. Equally, one or just a couple of plates can produce prints of striking and bold simplicity. Artists work straight onto grained aluminium plates or limestone. Alternatively, they can develop their images on acetate, which is then transferred onto photosensitive plates.  Photographic and other digitally created images can also be used; seamlessly combined and layered, they allow for a wide range of imagery. We supply stones in a large variety of sizes, grained plates, acetate, drawing material and inks. Intaglio and relief printing: For intaglio we use traditional etching mediums such as copper, zinc and steel as well as photopolymer plates. We work with most intaglio techniques (etching, drypoint, mezzotint, engraving, hard and soft ground, aquatint, carborundum, sugar-lift and spit-bite processes). We do relief printing such as wood and linocuts, plus all other surface rolled work. Collagraphs and other crossover techniques are also possible.
Services
Nutmeg Editions work with artists in two ways:
Publishing We invite artists to collaborate on projects published under our name; we fund the entire production cost. All profits from the edition are shared between the artist and Nutmeg Editions, once the initial production costs are recouped. Alternatively, artists themselves can suggest a print project that, if accepted, is also fully funded by Nutmeg Editions. Contract printing We can help artists develop and realise their ideas, take them to the 'Artist's Proof' stage and produce a limited edition of their prints for them. We can also collaborate with artists on individual prints (monotypes) that are not part of an edition. Usually these are the result of fast and spontaneous work straight onto the plate and require less time. The artist, a gallery or an external publisher finances these projects and after their completion Nutmeg Editions receives no share of the sales. Please request our separate fees list.